Want to know the secret ingredient to building effective banner ads and making the most of your next display ad campaign?
Planning and organization. Lots of it.
But if you're like most digital marketers, both planning and organization take time and that's a luxury you just don't have.
We've worked on thousands of projects over the years. During that time, we've honed our approach to shave days and weeks off the digital production process. And because we believe in actionable wisdom over theory, we broke the process down for you below.
Whether you're a pro at steering digital production for your display ads or just getting started in the world of building banner ads with digital production vendors, this list will help make your next display ad campaign a success.
The blueprint of a successful digital production process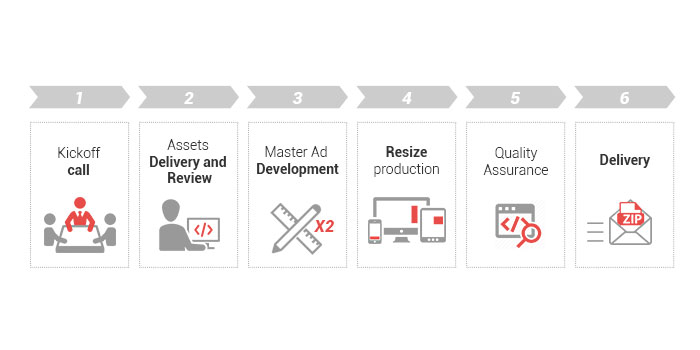 1. Kick Off Call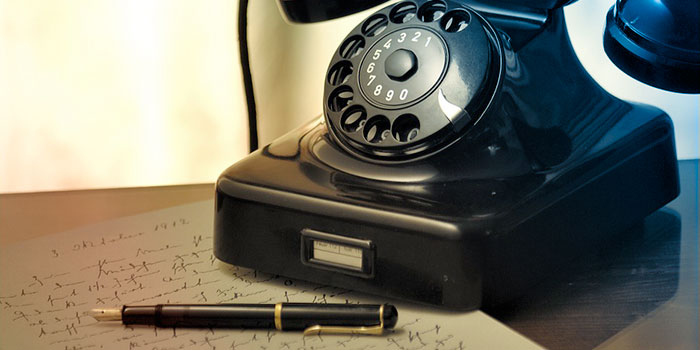 Mobile ad banners: The first and most important step of a successful HTML5 banner ad campaign is the initial briefing or discovery call. When we conduct these calls with clients, our entire team joins in. That's how we're able to deliver quality, on-spec creative. Everyone starts out, and stays, on the same page thanks to a comprehensive briefing.
A successful briefing defines three things:
Scope

: What are we creating and where is it going?

Specs

: What are the client objectives and metrics, media plan and spec sheet?

Timelines

: How long do approvals take and when does this need to go live?
2. Assets Delivery and Review
Next up: asset delivery and review. You deliver all the mandatory files and information your digital production team needs to start building your display ads. That could include images, PSD files, fonts, audio, ad server specs, media plans, animation direction and more.
This is where the time savings kick in. At Digitaland, we immediately check the assets. If something is missing or more clarification is needed, we reach out to the client right away, so no time is wasted.
Even if all the files are delivered, you may still need to hop on another call with your digital production partner, because it's tough to hash out complex details – like animation direction – based on Interactive emails.
It's such a simple step, but it can prevent costly delays down the line.
3. Master Ad Development – HTML5 development
This stage is where production gets started.  
First, we create a master ad for review and approval. If there's a last-minute change or mistake, it's better to catch and correct it on the master ad. Otherwise, you'll lose valuable time when production rebuilds everything again.
Pro tip: During your briefing call, make sure you cover the number of revisions you'll receive during the design stage.
Once the master ad has been revised or approved, the ad moves into HTML5 development.
4. Resize Development with a Digital Creative Production
Banner ads are built to media plan and ad server specs – specs that were covered in detail during the briefing – and resized accordingly. Understanding the specs before you start ensures the resizes are built out correctly.
Even though the master ad was already approved, and the resizes are built per the master ad, we also require review and approval of the resizes. Frequent approval check-ins help prevent mistakes and time-intensive rebuilds.
Once the resizes have been approved, the file moves into quality assurance.
5. Quality Assurance
There are four parts to successful quality assurance (QA):
Content

: Does the content render perfectly on all in-scope devices and browsers?

Visual

: Are the images and animation rendering perfectly on all in-scope devices and browsers?

Functional

: Does

everything work

in the banner ad? Do links lead to their landing pages?

Implementation

: Is the banner ad creative file optimized for the destination ad servers?
By defining the QA scope during the initial briefing, you ensure your digital production team doesn't waste valuable time and money testing the banner ad on unnecessary platforms or devices.

6. Delivery
We're on the home stretch: delivering the goods! Your digital production team has your display ad creative file packaged, optimized and ready to go. They have two options for delivery.
Deliver the source files directly to you
Your production team delivers the source files to you via zip files, Dropbox or whatever file transfer program you prefer. You deliver the files to your client, who uploads them to the designated ad platform (i.e. DSP, Google Ad Network) or third-party ad server (i.e. DoubleClick, Sizmek).
There's one tiny pitfall with this approach. If there's any issue with the file once it's uploaded to the ad server, guess what? Your client comes back to you with the file and your production team starts troubleshooting. The back and forth wastes time and erodes your client's confidence.
Upload the files to a third-party ad server
If your digital production partner is certified on the ad server you're using for a campaign, they can upload your display ads and perform a final QA check right on the ad server, troubleshooting issues quickly, without any back and forth.
Then they push the banner ad creative from their account directly to your (or your client's) account.  It's fast, efficient and it saves everyone a lot of time.
Digitaland is an ad server expert and a DoubleClick Certified Creative Partner, so delivering an ad being served on DoubleClick would look like this:
And there you have it – the recipe for a seamless display ad production experience!
Want to learn more? We wrote the book (literally) on successfully managing your display ad campaign from start to finish. Snag your free copy here.